Today, the Bank of Canada surprised markets with a 100 basis point (1%) increase in its target overnight lending rate to 2.5%. (Press Release: Bank of Canada increases policy interest rate by 100 basis points, continues quantitative tightening – Bank of Canada).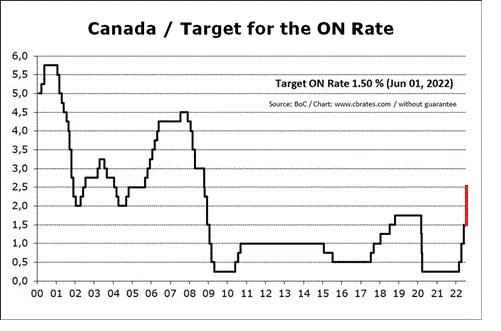 Markets had been expecting another 0.75% increase based on the bank's comments in May that it expected the neutral rate (neither stimulative nor restrictive to economic growth) to be about 2.5%, but that it would re-evaluate this target based on inflation and other statistics. Inflation has remained persistent in the face of ongoing supply chain disruptions, Chinese COVID lockdowns, and the war in Ukraine, and job vacancies remain at record highs without sufficient labour force to meet the demand surge after this year's re-opening.
The Bank of Canada said this week that the neutral rate may need to go to 3-3.5% to balance demand to available supply, and the economy was strong enough to absorb the interest rate increases without causing a recession, so it wanted to 'front load' the rate increases to reduce inflation pressures immediately, and avoid even higher targets being needed in the long term. We should therefore expect a further rate increase at the bank's next meeting September 9th, and at the next US Federal Reserve meeting July 26-27.
While the bank does not believe the higher rates will cause a recession, they do expect economic growth to slow. Still, their expectations are for reasonable growth rates of 3.5% this year, 1.75% in 2023, and 2.5% in 2024. Because inflation measures price changes from past levels, they expect about 8% inflation readings for the balance of the year, but a return to 3% by the end of 2023.
Bond markets had anticipated further rate increases so their yields and prices had already adjusted before the announcement. Top GIC rates are now over 4% for a 1-year term, and top daily interest deposit rates of 1.3% may see an increase in the coming days.
Video summary: Monetary Policy Report – July 2022 – Bank of Canada
Full Report: Monetary Policy Report – July 2022 (bankofcanada.ca)