The US Bureau of Labor Statistics today released Consumer Price Index (CPI) data for the month of April, showing seasonally-adjusted price increase of only 0.3% from March levels. This reaffirms the view of some commentators that inflation should naturally slow from recent record year-over-year rebounds from pandemic-induced price decreases in 2020.
The graph below shows the month-over-month price level change, which has hovered between 0 and 0.5% per month for the past 5-10 years. You can see the negative inflation in 2020 March – May, which took CPI down 1.2% during that period, limiting total annual inflation to only 1.2% for the year. 2021 made up for that as demand for goods surged amid pandemic restrictions on services, and covid-induced supply chain disruption, with a 7% total inflation for the year. Those supply chain disruptions continue into 2022: first quarter 2022 inflation has been just shy of 3%, with 1.2% of that in March alone, with the conflict in Ukraine spiking oil and energy costs, which are feeding through to the price of all goods and services that use them.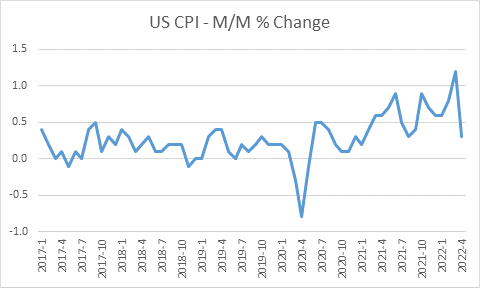 Some goods prices have started to decline as their supplies become more balanced, used car prices being one example. Historically, oil prices have not stayed much over $100 per barrel for long, and even if they stay at that level, at least they would not contribute directly to further inflation in coming periods. For this reason, some analysts believe we have seen the peak in monthly inflation at 8.5% in March, and that the year-over-year figure, down to 8.3% in April, will continue to moderate as the year continues. This may take some pressure off central banks on the need for interest rate increases.