Empire Life's blog post of June 22 provided an interesting analysis of past periods of market contractions over 20%, and subsequent recoveries. One notable chart shown here: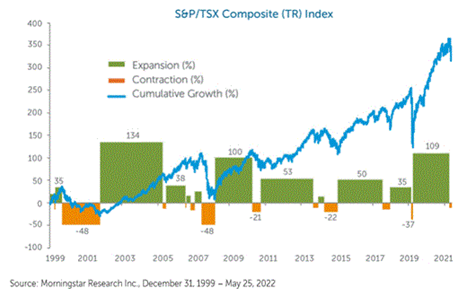 The chart makes it clear that expansion phases usually last longer than contractions, and have a larger impact. The article compares this period with the 1970-1985 period of peak inflation and interests rates, noting similar depth and duration of corrections about -23% over 6 months, and recoveries of 55-70% over the following 18 months. Those recovery phases produce returns well above the market average.

Will investors see an environment of low inflation and interest rates similar to the past two decades or something closer to the inflationary environment five decades ago? Perhaps the answer is "somewhere in the middle". But, here are a few things to remember:

• In either case and as history has shown, staying invested has proven to be a beneficial strategy for the long-term investor.
• Adding to your investments, particularly after large market contractions will likely help expedite your portfolio's recovery.

Full Article: https://blog.empirelife.ca/blog/corrections-what-we-can-learn-from-the-past